Ormoc Airport is in the Philippine province of Leyte. Premium Megastructures Inc. (PMI) was one of the contractors involved in the building  of Ormoc Airport, which will serve as the latest gateway to Eastern Visayas and the surrounding area of Ormoc City, providing easy access to popular tourist destinations such as Lake Danao, Tongonan Hot Springs, National Park, and Alto Peak. Ormoc Airport plans to strengthen the economy of Ormoc City by increasing trade and tourism, and it can accommodate more passengers and larger planes.
PMI's commitment to being builders of a better world is evident through their continued involvement in the construction and development of essential infrastructure projects such as roads, bridges, toll roads, and skyways. These projects play a crucial role in promoting economic growth and development by facilitating the smooth flow of people, goods, and services, improving connectivity, reducing transportation costs, and creating job opportunities. By investing in these projects, PMI supports their mission to build a better world by providing critical infrastructure that drives progress and enhances the standard of living of people around the globe.
The city government of Lapu-Lapu, in partnership with Lapu-Lapu Expressway (LLEX) Corporation, has signed a memorandum of agreement for the proposed Lapu-Lapu expressway, also known as the skyway project, with a budget of P24.8 billion. This project aims to address the traffic congestion in Lapu-Lapu City and is expected to cater to 50,000 vehicles per day, providing relief to the heavy traffic flow. The City Council has already given their approval through a resolution last June 9, 2022, which authorized Mayor Jun "Ahong" Chan to enter into a joint venture agreement (JVA) with LLEX Corp. This corporation is composed of Premium Megastructures Inc., Ulticon Builders Inc., and MTD Philippines Inc.
Biological Nutrient Removal Retrofit – East Avenue Sewage Treatment Plant
Premium Megastructures Inc. is currently undertaking the Biological Nutrient Removal (BNR) Retrofit project for Manila Water's East Avenue Sewage Treatment Plant, which is the largest wastewater facility in Quezon City. With our state-of-the-art technology and extensive experience in the field, we are working towards providing an efficient solution to remove nitrogen and phosphorus from the wastewater stream, resulting in cleaner effluent discharge and a significant reduction in the facility's environmental impact. We remain committed to providing sustainable and innovative solutions for wastewater treatment and are confident that our efforts will lead to a more sustainable and environmentally friendly future for the people of Quezon City.
PMI's specialization in building ports is crucial in supporting the growth and development of economies around the world. Ports serve as vital infrastructure that connect businesses to global markets, facilitating the movement of goods and people. PMI's expertise in port construction and development enables it to build ports that are efficient, safe, and sustainable, attracting businesses and investors and creating job opportunities. Furthermore, PMI's focus on building environmentally responsible ports reduces the impact of port operations on the environment, promoting a more sustainable future.
Crusher plants play a crucial role in the construction and mining industries by processing various types of raw materials into usable products. The development of crusher plants is essential for ensuring a steady supply of materials for infrastructure projects, such as roads, bridges, and buildings, as well as for the production of goods like concrete and asphalt.
The ongoing development of crusher plants, through technological advancements and increased efficiency, is vital for meeting the global construction and mining industries' growing demands, promoting sustainable practices, and minimizing environmental impact.
Megaship Builders Inc
PMI's collaboration with Megaship Builders Inc. on The Palanas Development project marks a significant milestone for the shipbuilding and drydocking industry in the Visayas region. Unlike the conventional carriage-type method, the project integrates marine airbag technology for drydocking vessels, which is a departure from traditional practices. The completion of this shipyard expansion project is projected to substantially increase the shipyard's capacity from 10,000 DWT to 200,000 DWT.
Premium Megastructures Inc's (PMI) strategic partnership with Concrete Stone Corporation (CSC) to further expand its operations and increase its production capacity. This partnership brings together two of the most innovative and dynamic companies in the construction industry, with PMI's expertise in large-scale infrastructure projects and CSC's cutting-edge technology in precast concrete manufacturing.
Together, PMI and CSC will collaborate on the development and construction.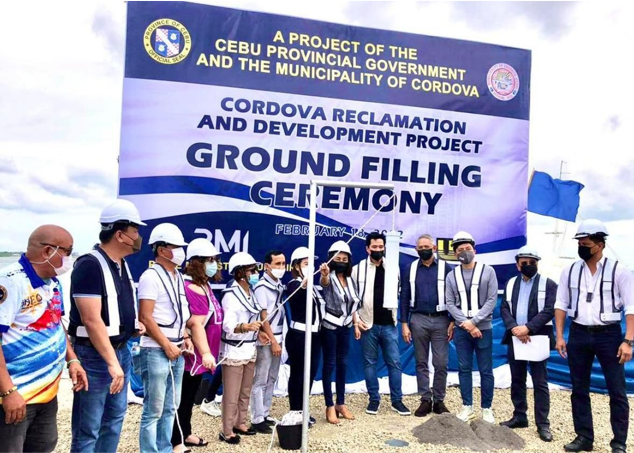 The project would expand the land area of Cordova by an additional 254 hectares once the shallow portions of the sea are reclaimed.
UBI and PMI said they expect to complete the reclamation within the next year or two, followed then by the development of the space.
The project will be divided into two, the first 204 hectares will be located in the southern part of Mactan Island and Cebu Strait traversing Barangays Catarman and Guanzon.
The rest of the reclamation will be expanding from Roro Port.
Site 1 will have mixed-used facilities such as offices, retail shops, and entertainment facilities. A four-hectare convention center will also be built on the site.
Site 2 is a 50-hectare development for mixed residential and business areas. It will also house the expanded port, Customs, and other government agencies.
A cruise ship port and terminal will also be developed.